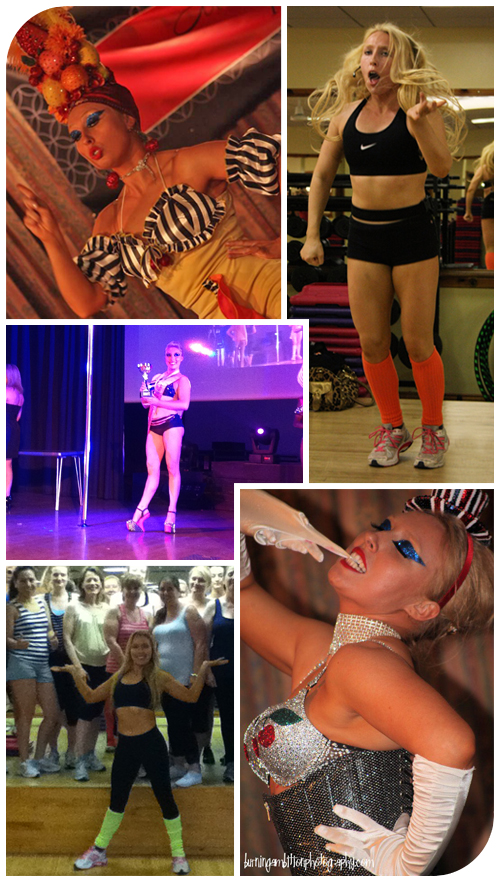 Growing up as an artistic gymnast and trampolinist, dance fitness was a natural progression for me. Whilst performing as a burlesque and pole artiste, under the stage name Toxic Cherry, across the UK, Europe and Malaysia, I recognised a demand for alternative fun, fitness styles. In January 2011 Cherry Dance – Academy of Burlesque and Pole Fitness was created and has since flourished.
With a strong academic science background I specialise in women's health, fitness and related issues at post-graduate level, applying this expertise to my client base. I am a qualified fitness professional with several years experience within this field so you know you'll be in safe hands. Cherry Dance – Academy of Burlesque and Pole Fitness classes are Pole Dance Community registered with distinction. (PDC approval demonstrates that pole classes have been awarded the industry gold standard and are delivered at the highest level). I currently sit top of the most advanced level of the PDC grading league and I am an approved 3 star PDC instructor.
I delight in making showbiz pizzazz an integral part of my teaching technique, after all running on the treadmill isn't everyone's cup of tea, but who could resist the magic of their first pole invert or perfect splits? The strength gains, body confidence, improved posture and flexibility, developed as a result of my classes will be quickly recognised by you and your friends.
Cherry Dance offers more than a conventional fitness experience. British weather permitting sessions may go beyond the confines of the studio walls, with opportunities for outdoor activities such as hula hooping on the beach.
You will become a valued member of our warm, supportive 'Team Cherry' with possibilities for socialising and even performing.
Come and join me and my Team on our fabulous fitness adventure,
Toxic Cherry – 2019 Pole Theatre UK Professional Classique Champion; 2019 Exotic Generation UK Professional Theatre Champion; 2018 UK Dance Filthy Elite Champion; 2016 UK P4F Classique Pole Dance Professional Champion; 2015 UK Authentic Pole Dance Professional Champion; 2015 Dance Filthy Professional Champion; 2012 UK Pole2Pole Professional Champion.